The future of green building
Camille Khouri reviews the NZGBC and Property Council New Zealand's Green Property Summit 2017, held in late March in Auckland.
While it was a shame to miss out on hearing Hon. Paula Bennett's opening speech at the Green Property Summit 2017, the fact that she couldn't make it due to traffic congestion was a point in itself.
The summit brought together an array of knowledgable speakers from New Zealand and around the world who work in the areas of green building, sustainability and smart city creation – and a common theme to their speeches and discussions was the need for forward thinking in Auckland in regards to transport.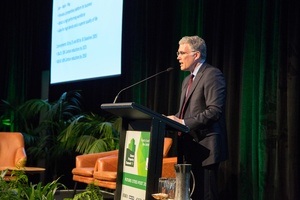 The morning kicked off with a keynote address by Paul Rode from New York's The Related Companies. Rode spoke about how to make a city more appealing for its residents, to stop young families from leaving the city to move to the suburbs. He pointed to New York's pedestrian-centric nature and how the city is designed so that residents are never more than ten minutes from a green space. Pedestrian stoplights are also programmed so walking flows easily through the city – and he said that is a simple thing we can change for the better in Auckland's CBD.
As the leader of the green retrofit of the Empire State Building, he had some interesting points to make about how to make green buildings work harder. He talked about Hudson Yards, New York's largest real estate project ever, which is being created on a platform above the Long Island rail yards. Each of the many buildings in this project will receive a high Green Star rating, and every effort has been made to ensure the project is sustainable and, in many ways, self-sufficient. In Rode's words: "I would be crazy to support a building that wasn't green."
Next up on the podium was Gordon Moller, presenting his design of the Auckland Theatre Company's ASB Waterfront Theatre, which is aiming to be the first five-star Green Star-rated building in the Southern Hemisphere.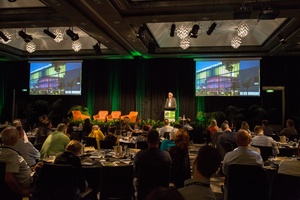 Moller spoke on how this was a challenging feat, as theatres are, in essence, enclosed spaces that require energy, but in the creation of the Waterfront Theatre he attempted to make this a more open space, with a glass foyer that invites the public in. Green thinking was used in everything from the recycled piles beneath the building to the fabric used for the theatre seating. "Tenants are demanding green buildings, so developers have to come through," Moller declared.
Following Moller, we heard from Tony Arnel of Norman, Disney and Young in Australia. He had some interesting facts to relay about cities, declaring that for the first time in human history, there are more people in the world living in cities than rurally – and, not surprisingly, 75 per cent of carbon emissions come from cities.
But, he said, quoting from a journal of the same name: Great cities look small. "Geography and population are irrelevant. It is more important that people can meet face-to-face." He pointed to Detroit as an example of a failed city, and said that what he called 'middleweight' cities such as Auckland and Perth can now excel due to the advent of agile businesses. In terms of Auckland's transport issues: "You need to ask the question, is the project going to be forward thinking enough to carry us into the future, or are we simply playing catch up?"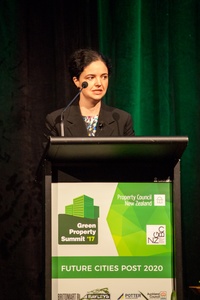 After everyone had replenished themselves with coffee and croissants, a panel of experts came on stage to talk about how to transform the future. Facilitated by New Zealand Green Building Council's chief executive Andrew Eagles, the panel consisted of Davina Rooney from Australia's Stockland Corporation, Katie Swenson from Enterprise Community Partners in the United States and Mathew Ensor from Beca.
A common theme to their discussion was the need for affordable housing to be created to a high standard in order to create communities that people can be proud of and actively involved in. Swenson gained cheers from the audience for some of her points, including a comment on how the wealthy get tax credits for homeownership in the United States, but people complain about tax-payers funding subsidised housing, when it is in essence the same thing.
Following an appetising lunch, three CEOs of major companies spoke about their 'lightbulb moments' in regards to green building. Scott Pritchard of Precinct Properties spoke about how the driving force for change in green building has developed over the years, and how wellness for occupiers has now become key.
Matthew Cockram of Cooper & Company tended to agree the requirements of tenants was a key driver, and also pointed to the development of Britomart as an example of green building done well. He also talked about the reuse of old buildings as a sustainability measure, such as the recent restoration of the heritage building that houses Tiffany & Co. in Britomart.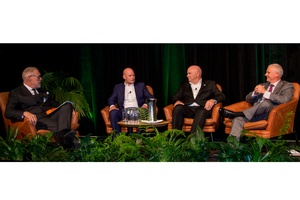 Peter Mence of Argosy Property presented some hard-hitting facts about the fast-moving nature of climate change and how he felt "greed of profit took precedence over rules for environmental protection" in this country. He said that incentivising the right behaviour was a more effective way of getting green projects through than using regulation. All three panelists agreed that education from the top down would go a long way here in New Zealand, where the model tends to be from the bottom up.
The Lion's Lair came next, in which three people presented their ideas for encouraging sustainable building. Tony Arnel came back on the stage and talked of his concept to create a 'road map to 2030', in which minimum standards in the building code could be brought to levels where they will actually help to reach the minimal requirements of the Paris Climate Accord. The second speaker was Mike Burke, who discussed his Civilshare app that offers spare materials and excess resources from building sites to other projects, and offers a platform for the sharing of ideas and knowledge in the construction industry. "One man's garbage is another man's gold," he said.
Auckland Council's chief sustainability officer Alec Tang then presented his Auckland Business Efficiency Concept, which focused on getting smaller and medium-sized businesses on board with sustainability through emphasising the financial savings and increased wellbeing for staff that comes from making a building run more efficiently. Tang's concept was voted overall winner – and hopefully the proposal makes it through development stage and becomes a reality.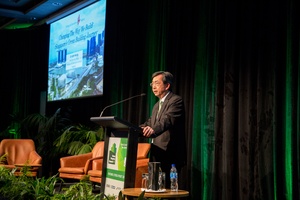 Closing keynote speaker John Keung, chief executive of the Building and Construction Authority, Singapore, talked about his experiences in the city that has "moved from slums to a sustainable built environment". He spoke to the need for specific Green Mark schemes to be allocated to different types of buildings – in Singapore there are 18 categories. He says there needs to be strong incentives to kickstart the process of creating a green city, as well as widespread education to build capability and awareness in the industry.
Many delegates stayed on for the summit dinner at the ASB Waterfront Theatre, an apt location that illustrated the lively and inspiring discussions that took place over the course of the day.